Businesses these days exist in an intensely competitive environment, and there is no two ways about it. Regardless of type and size of business you own, you need to stay ahead of the curve so as to retain your existence in the market. In addition to competition, the today's business world requires restless work, smart decisions to be made and most importantly, you need to do something that your competitors don't or don't even think about doing. So, what is your next step to make your business 'lucrative? Or what are you going to do next to beat your competitors? Well, do one thing this New Year, get a video wall and see your business becoming more and more lucrative.
What is a video wall?
Let's don't focus on definition; we need a live example to understand the concept. You must have seen huge screens equipped in different businesses, retail stores, universities, hotels and restaurants and shopping malls with the help of which you can get knowledge about some brands and products. Also used to promote stage shows or events and these large size LEDs can be seen outdoors as well. Are you getting an idea? Yes, that's what you need for your business as well. Almost every type of business can reap benefits of video wall solution and this one time investment can work wonders for your business.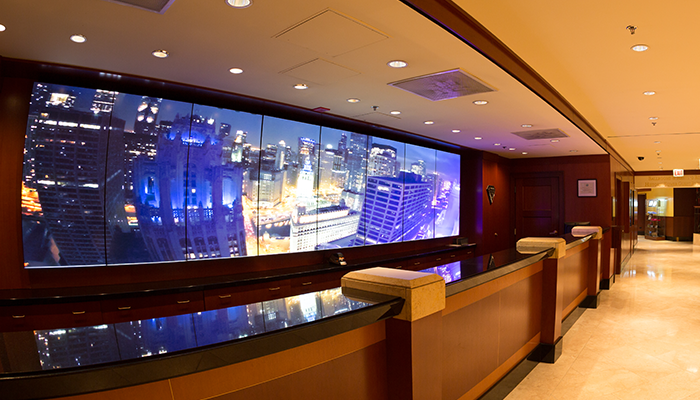 Why it is effective?
Of course you are going to make an investment so you must be aware of why you need one in your business. Giving an example is the best thing to understand the effectiveness.
If you are an owner of hotel or restaurant, just take a walk around your hotel reception and take a look at the empty wall behind the counter. If the wall is not empty, the name of your hotel must be there. But, have you given a though on equipping the wall with large size LED? Of course, effectively you can showcase the name of your hotel or brand or how effectively you can allow people to know about your hotel, spaces and rooms available for them, services you have to offer and everything in between. Now keep the same concept in your mind and think about video wall in your business, you will surely sense the benefits for your business as well.
What you need to know while buying one for your business:
Ambiance and space availability are important factors for buying video wall controller. Moreover, you need to decide the location whether you want to equip it indoor or your target is to attract people walking down the street, so you will need to find some space outdoor. Once the space is decided, it will give you a better idea about the size of video wall that can prove to be suitable for you.
Consult the expert technicians in the field about your needs. Of course, you may not have all the knowledge about video wall solutions and hence, consulting an expert about the same makes an absolute sense. They can make things easier and work as per your needs.