Top Tourist Attractions in Dubai
There's so much to see in Dubai, including towering skyscrapers and some of the biggest malls in the world, so it's not hard to understand why it is so difficult to choose where to visit first. While you are in Dubai, don't miss these five amazing tourist attractions that call one of the most popular cities in the world their home:
Aquaventure Waterpark
Adventure seekers, get your adrenaline pumping and cool off at Aquaventure Water Park at Atlantis, the Palm during your holiday. Home to 700 metres of pristine private beach, heart-pounding water rides and slides, and restaurants where visitors can sit back and relax while having a bite to eat, it's the perfect place for a fun day out with your friends or family. What's more, there is a play area dedicated specifically for children, a chance to feed a Cownose Ray, and much, much more.
Burj Khalifa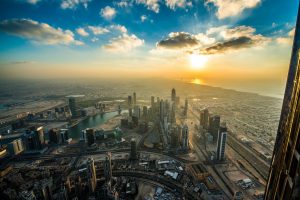 Dubai is home to an array of breath-taking architecture, including the world's tallest building – the Burj Khalifa. If you choose to visit this towering wonder, you can explore the building's history and take the fastest lift in the world to its incredible viewing platform. It will only take you a few seconds to get to the top, believe it or not, and it is not an experience for the faint-hearted. But, for those who feel as if they can brave it, it is worth it as the views are beautiful. It is best to book your tickets in advance, and there is a convenient metro stop just a ten minute walk away. Meaning that it is an easy tourist attraction to get to. The best time to go would be at sunset, as you will be able to see both day and night from the top.
Sheikh Mohammed Centre for Cultural Understanding
If you have always wanted to learn more about Islam, the Sheikh Mohammed Centre for Cultural Understanding is the perfect place to start while on your holiday. The centre was founded by an Emirati man who married a European woman and is hosted by Nasif, the general manager. The centre offers visitors a cross-cultural experience that leaves them with a whole new appreciation and understanding of the Muslim world. Visitors have the chance to indulge in traditional Emirati cuisine and are able to ask questions about Islam in order to further their understanding.
Ski Dubai at The Mall of Emirates
If you're looking for the perfect place to take shelter from Dubai's sweltering heat, visit Ski Dubai at the Mall of the Emirates (one of the largest shopping malls in the world). At the Middle East's first indoor ski centre, visitors are able to hire all the necessary equipment they need in order to enjoy the frosty temperatures and snow, take to the five slopes (each varying in levels of difficulty, including the world's first indoor black diamond run), and enjoy the various boxes, rails and kickers available. For those visitors who would rather sit back and relax, there is a café situated above the snowy slopes where they can indulge in warm drinks and delicious food.
Dubai Fountains
This free tourist attraction is one of the most spectacular sights you will witness while in Dubai. Dubai Fountains does it bigger, taller and louder than the Belaggio Fountains in Las Vegas, meaning visitors are sure to be wowed. Taking place in the evening, visitors can expect to witness a number of musical shows that include Sama Dubai, Baba Yetu, and the Arab world's top-selling dance song, Shik Shak Shok, as well as Con te Partiro: Time to Say Goodbye. Dubai Fountains are situated outside Dubai Mall and is surrounded by restaurants with front row views – be sure to book in advance in order to ensure you have a good spot to view the fountains from.