Love spending your time outdoors? Enjoy meeting your friends for a delicious meal? Or do you like to indulge in some shopping from time-to-time? Whatever your pleasure, there are a number of amazing entertainment parks and attractions in Dubai that cater for all your entertainment needs.
We have put together a short list of our three favorite entertainment parks in Dubai and the United States to give you an idea of what they offer and what you can do while you are there if you decide to visit one of them:
Las Vega Strip – Las Vegas, United States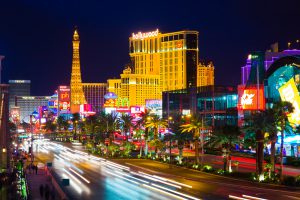 Known for its concentration of hotels and casinos, the Las Vega Strip is a stretch of the Las Vega Boulevard South in Clark County, Nevada, and is almost seven-kilometres in length.
The aspects that attract travellers to Las Vegas include its cityscape, dramatic architecture and is bright lights, as well as its ever-evolving and developing skyline.
The Las Vega Strip is home to a whopping 15 of the world's 35 largest hotels (worked out by room count), and the route has been dubbed a scenic route at night, with many travellers taking to the streets to indulge in the shining streets.
However, there are many more attractions that the strip has to offer, some of which include golf, shopping and a number of amusement parks and thrilling rides.
In addition to the entertainment you will find on the strip's street, there is an array of hotels and venues that host theatre shows and musical, as well as exhibitions, making it an ideal place for travellers to explore and get their fill of a number of different activities.
Riverland™ DUBAI – Dubai, United Arab Emirates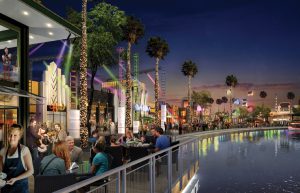 Dubai has a new entertainment park opening later this month, and it will be the gateway to Dubai Parks and Resorts, a massive entertainment resort that will comprise of a number of theme parks and entertainment parks.
Riverland™ DUBAI will be a fun themed dining and retail destination where travellers and locals alike can walk along the river and take a journey that will take them back in time.
Made up of four zones – The French Village, Boardwalk, India Gate and The Peninsula – visitors will be taken on a journey through time, getting a glimpse into four of the greatest eras of our past.
Each district – or zone – will have their own selection of restaurants, shops and entertainment, making it a must-see spot in the city.
Visit Riverland™ DUBAI to relax, meet your friends and family and recharge after a long week, or to simply indulge in some good food or retail therapy!
Downtown Springs – Walt Disney Land Orlando, United States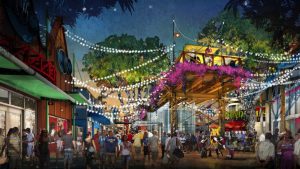 An outdoor shopping, dining and entertainment complex located at Walt Disney Resort in Bay Lake, Florida, Disney Springs brings all the amenities you would need to have a fun weekend away or a nice day out with your friends and family, together in one place.
Made up of four distinctive areas, which include: West Side, the Landing, the Marketplace and Town Centre, Disney Springs is open throughout the year and requires no admission fee to enter.
The Marketplace is home to numerous shops and restaurants, all of which are reminiscent of the 1930s American Craftman-style, whereas the Landing is the town's transportation hub and marina.
Moving onto the Town Centre, here you will find the central business district with Spanish Revival architecture from the 1920s hosting a number of amazing retailers where visitors can shop until they drop.
Last but not least, West Side is known as the town's exposition centre, which was developed in the 1950s. Here you will find the AMC Disney Springs 24.
These three exciting entertainment parks will provide you with nothing but an amazing adventure where you can enjoy a day out or a weekend away with your friends or family.