Finding the best catering services in town is tricky since there are so many talented caterers out there. With these tips, you can find the perfect one for your wedding:
Get Suggestions
The very first step to finding the best caterer is to narrow down the options to just a short list of choices. If you are not experienced in hiring caterers, then it is best to ask for recommendations from friends and even business colleagues and associates. Another good source is online reviews; watch out for the negative ones in particular to know which ones are known for ruining special days.
Also, the venue manager of your wedding location is great to ask for suggestions because he is the one who has the experience of working with multiple caterers and he know which have the best work ethic.
Menu and Specialties
Caterers make careers out of pleasing people because they have specialties; they don't spread themselves too thin. For this reason as well as common sense, you don't ask a caterer who specializes in Chinese food to cook Italian.
Make your preferred menu first for your wedding first and see which ones in your narrowed-down list specialize in the food you want. Doing this will narrow down the list further and bring you that much closer to finding the best caterer for you.
Visit Their Kitchen
The best caterers will have a tasting room for potential customers to literally get a taste of what they have to offer. This is usually situated in the same premises of their main kitchen.
Schedule a tasting session and ask to be able to see their kitchen. First, make sure that you are satisfied with their food. Then, take a look at the kitchen to see if they have a clean and professional environment. If you see this, then it means the staff cares for their work and the service they provide.
A chaotic and dirty kitchen is a sign that working with them will be a bad experience. This is because a kitchen that is dirty is maintained by a team that is not interested and proud in their work.
It is recommended that you do this when you get down to your top 3 choices.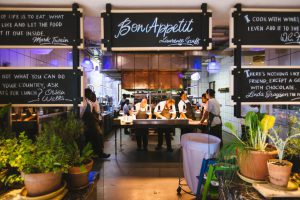 Staff and Manpower
Take note the caterers are only as strong as their manpower. Depending on their booking, they may be down a few people on your special day. The number of crew you will need will depend on how big the celebration will be. You must meet with the head of catering to make sure that your wedding's demands can be met.
As a guide, follow these guidelines:
You will need at least 2 servers for every 30 guests for buffets with 2-3 runners to clear dishes and restock food.
In sit down dinners, there should be 1 server per table of 8 guests with an additional server for drinks.
Then for the bar, there should 1 bartender and 1 bar-back for every 50 guests.
Also, there needs to be a captain of service for every 6 staff that will be present.
Quite a lot is needed for a wedding which is why you need to make sure they are not undermanned on your special day.
Key Takeaway
Although picking a caterer may seem like a straight forward task, a processed approach like this one is better to pick the one the best suits your needs. It also helps to avoid being torn between 2 or more choices.