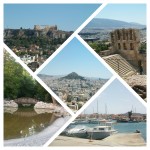 While honeymooners fancy a romantic dinner in the famous sunset of Santorini, others prefer dining with the gods in Athens; if you're familiar with ancient Greek gods' names like Zeus, Athena, and Poseidon… You'll definitely know that Athens was not named Europe's "historical capital" for nothing. It is one of the world's oldest cities, and home of Plato and Aristotle. I think the last two names speak for themselves, to say the least. Since we've been married for a couple of years now and no longer belong to the "honeymooners" category, we decided to go to Athens; and to be honest, this cosmopolitan city has everything; the history, the art, the entertainment, and more. So, if you're expecting you're only going to see ancient monuments and nude broken sculptures, let me tell you that you are mistaken!!!
The best time to go to Athens is during the months of June till September; bear in mind that starting mid June, it will start getting hot, so leave your dark clothes at home. Keep your sunscreen in your bag and a hat on your head and take only your walking shoes or flip flops for there will be a lot of walking. 6 days are enough to explore Athens; however, you might need a couple of extra days if you want to expand your trip to include one of the Greek islands.
Must –Do Excursions:
The Acropolis (13-15$): Gods, Gods, Everywhere!!!
Activities Included: The Acropolis is the most famous of the 7 hills of Athens; Start your historical visit with the most famous monument in the Acropolis citadel, the Parthenon (take a historic picture with the one and only symbol of Greece); next stop is the Erechtheion (An exceptional artwork with a complex, multiple level plan), Temple of Athena Nike (The smallest but the highest in location, situated on a steep bastion), Theatre of Dionysus (Just sit there for some time and imagine yourself among Sophocles' audience), "Herodeon" or Odeon of Herodes Atticus (If you're lucky you'll catch a glimpse of Athens festivals' preparations); the final stop is the Acropolis Museum (Immerse yourself in the glorifying beauty of the Greek art and architecture). Tips: Check www.athensinfoguide.com for opening hours and entrance fees to all Athens sites; check greekfestival.gr for festivals taking place at the Herodeon; The entrance to the Acropolis Museum is not included in the Acropolis entrance fee, it costs about 6-8$, and taking pictures is not allowed inside, so don't go easy on the eyes.
Mount Lycabettus (free): Such an "Up-venture "!!!
Activities included: While Acropolis stands as the most famous hill, Lycabettus is the highest with the best panoramic view of Athens; walk to the end of Aristippou street in Kolonaki, climb the long stairs to the intersection of Ploutarchou and Aristippou street, and take the funicular railway (8-10$) to the top of the hill. At the top, visit the Agios Georgios Chapel (feel the serenity of this sacred location, and capture the breathtaking view of white Athens); you can even have lunch/dinner with the best view of Athens in one of the hill's restaurants. Tips: Finding your way to the top could be a bit confusing since it is not accessible by car and there are no guiding signs of how to get there. So, if you feel lost, do not hesitate to ask the locals for directions; plan your visit to be during the sunset to get the best of this stunning view of Athens.
National Gardens (free): Yes, city OASES do exist!!!
Activities Included: Escape the hectic city center to the tranquility of this tropical paradise; you'll be welcomed by  tall palm trees and winding forested trails that all lead to a central magnificent pond with a nice wooden bridge (you'll feel like you're in a Japanese Zen garden); the garden has a rich and varied flora, duck ponds, a mini zoo, and a children playground that you can visit for free; Lay on the grass, read a book on a bench, wander your way in the shade, or take a picture under the green-arched pathway; do not be surprised if you came across a roaming peacock, it will just be enjoying a nice walk, like you.
Tips: The garden closes at sunset, so make sure you go early to take the most advantage of this green refuge; if you are allergic to bites, put on some pants or take an insect repellent with you.
Plaka District (free): Athens' Open Museum
Activities Included:  Take a leap into the cradle of history and visit Plaka, Athens' oldest district; this historical area known as the "neighborhood of the Gods", just at the feet of the "sacred rock" of Acropolis, has all what it takes to be called an "open museum"; lose yourself in the winding paths of this astonishing pedestrianized area, and immerse yourself in the magic of neoclassical architecture, historical sites like Ancient Agora, Roman Agora, Hadrian's Library, Choragic monument of Lysicrates, Hadrian's Arch, Temple of Zeus, and museums of traditional culture. Stop at Anafiotika Neighborhood, the most distinctive area in Plaka (you'll feel like you're on a Greek island, only without the sea) with its white houses built amongst the rocks, steep steps, and beautiful flower gardens. Stroll down Adrianou Street, the oldest and most popular street in Plaka, with numerous cafes, restaurants, and gift shops (you'll feel alive in this buzzing street and you'll never be bored).
Tips: If you like outdoor cinema, try Cine Thission; it is the number one open air cinema in the world.
Optional Activities:
Attica Zoological Park (17-20$): If you're in for some wildlife experience, you must visit Attica zoo; it takes about an hour to get there from Monasteraki by metro and bus (M3-Bus 319), but it's worth it; just wander through the beautifully landscaped pathways among the trees and ponds, and discover the various animal species (birds, mammals, reptiles, amphibian, and insects) from around the world; you can also book an educational dolphin/seal program and learn more about these adorable mammals. Bear in mind that the zoo opens from 9:00 am till sunset.
Allou! Fun Park (4-5$ per ride): Pump up some adrenaline into your trip and visit Allou! Fun Park, the biggest amusement park in Athens; it takes about 30 min to get there by bus number 829; the park has all kind of rides for all ages, and a 4D cinema. Try the "Big Balou" for a stunning view of Athens, "Horror Train", and the 4D cinema for a bumpy ride. Bear in mind that the park opens from 5:00-11:00 pm.
Aegina Island Trip (20-30$): You can take a break from the city and spend a relaxing day in Aegina, the closest island to Athens. Take a ferry from Piraeus port, it takes about 35 min to get to Aegina; you can spend the day at the beach, visit the archeological site of Kolona, or take a scooter/bus to the Temple of Aphaia and Agios Nektarios Monastery. Do not forget to bring back some pistachios from the island of pistachio nuts.
Restaurants/Nightlife: Greek food is simply YUMMY, and almost all Greek restaurants are keen to prove it. There is a wide variety of restaurants in Athens; If you're around the Acropolis, try Strofi, a traditional restaurant with an exquisite view on the Acropolis; if you are in Plaka you should definitely try one of the various cafes on the famous "stairs" (we tried Kphtikoy Taverna); or just grab a delicious gyros or souvlaki at Theikon Grill House just around the corner from Athens Center Square Hotel; At night, head to Monasteraki Square and enjoy the entertaining atmosphere of this vibrant place or relish a drink at Brettos Bar,the most famous bar in Plaka, and blend in the effervescent ambiance of Athens' nightlife. Make sure you check Tripadvisor.com for all restaurants reviews.
Shopping: For the shopping part of your trip, head to Monasteraki Flea Market or Plaka; you'll find everything you need from souvenirs, artifacts, apparel, jewelry, etc. You can also visit Athens Metro Mall, the number 1 shopping center in Athens' southern suburbs, located about 20 min away from Monasteraki by metro (M3- M2).
Hotels: You'll find a good range of affordable hotels in Athens, we stayed at Athens Center Square Hotel, a 3–star hotel, in a great location (although it's in a middle of a fruit market), very clean, modern, with a basic, but tasty, breakfast, friendly staff, and a nice roof top terrace that looks over the Acropolis; another examples are: Attalos, Plaka, Hermes …. Make sure you check Booking.com for the best hotel deals.
Getting Around: It is very easy to get around in Athens; the best deal is to buy a combined ticket for 15$; you can use it multiple times for both the metro and the bus for 7 days; there are multiple metro stations in Athens that are distributed into 3 main lines M1, M2, and M3; make sure you check www.athensinfoguide.com for all the information on metros' fares, timetables, and maps.
Useful Tips: 1- Some areas in Athens are safer than others; avoid staying in Omonia, instead, pick hotels that are more in Monasteraki, Plaka, or Syntagma; 2- Do not leave your belongings unattended specially in metro stations; it is recommended to wear your bag facing your front and not your back or side; 3- Athenians are very friendly and pretty much used to tourists, do not hesitate to ask for information or directions whenever you're lost; 4- Bargaining is best at low-end shops where items are very much similar; 5-It is highly recommended you try the pork in all its forms (gyros, souvlaki,…), YOU'LL LOVE IT!!!
Final Thoughts: You'll definitely have a great time in Athens; it's a city that is full of life; every site you stop at is an evidence of the Greek civilization's mightiness; you'll feel like you're in the heart of history; and most of all, you'll feel like it's a civilization that will still be standing, against all odds (or debts).