Technology is everywhere! It has influenced our lives in a positive as well as in a negative way. From students to housewives, children to aged people, everyone around us today is using latest technologies to ease up their lives. Here, you will be reading about the use of interactive technology as a business strategy and how it is benefiting for both, client and the user. Before moving ahead you must be aware about the interactive projector technology.
Interactive Projector Technology
As the name indicates, interactive projector technology is basically an interaction between technology and the user. It allows a flow of information between both ends. Usually, the user requests to technology for action and as a result technology actions back. It is basically a two-way communication.
Role of Interactive Projector Technology in the Life of Kids
Specifically for kids, interactive projector technology plays an important role in their grooming. Earlier, it was thought that only football, cricket, basketball and other such physical games are beneficial for a child but not anymore! Certainly, these games are good for their physical health but interactive projector games give children a chance to exercise their brain and provide them with physical challenges as well. For example, interactive projector technology being used in classrooms cannot just build their interest in studies but can also provide them an opportunity to learn new things easily. Talking about kids, let's discuss 5 top businesses that are using interactive projector technology for their well being and how this strategy is convenient for parents and titleholders too.
Interactive Projector Technology in Schools
Schools are an important source of building a kid's mindset. With the spread of science everywhere, kids are being attracted and influenced by it. From watching their favorite animated film on TV to using a Tablet for playing games, it's a global hook! Keeping all this involvement into the account, schools are using same techniques to grab each student's attention. Usage of attractive gadgets like a smart board, projector, etc, really helps students to stay engaged during their learning. Nowadays, there are many smart schools that are using interactive projectors to improve learning style. Parents and more interested in sending their kids to a smart school compared to a traditional institute.
Interactive Projector Technology in Restaurants
Fast food chains always top the chart when it comes to "kid's favorites". However, it is quite boring for them to wait for their ordered food in a restaurant. This is why many restaurants and famous food chains are using certain programs to keep their customers entertained. Interactive projectors are being used for this purpose widely. It is not just a great attraction for kids but also a source of relief for parents who know how difficult it is to wait for food with hungry kids. Also, it helps to keep their children in one place for longer. It is basically a marketing strategy which fascinates the customers to visit that place again. Check out McDonalds and KFC for interactive projectors!

Interactive Projector Technology in Churches
It is always a hard task to keep kids engaged in any kind of religious activity. Children are usually not interested in understanding any logic or history so it is not easy to draw their attention towards any system of beliefs. In the same way, taking your kids to church is a real challenge especially for parents who believe that religion is crucial for the welfare of their children. Because of all these aspects, religious teachers are using interactive technologies, like floor or wall projectors, to keep students attracted to the whole concept. Playing games and conducting physical or brain activities via interactive projector is a famous technique to provide a positive environment for kids of all age groups.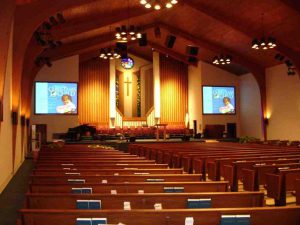 Interactive Projector Technology in Clinics Or Hospitals
Choosing a right doctor for yourself or for your family is as difficult as selecting a good restaurant. Good marketing scheme plays a vital role in earning customers. Nowadays, many hospitals and clinics are using interactive projectors in order to make their waiting areas attractive and to save patients from indulging in boredom. Earlier, patients used to read magazines or watch TV for time pass but now they can get engaged with different activities through interactive projectors and have more fun. This marketing scheme is benefiting both, clients and visitors.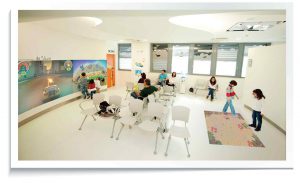 Interactive Projector Technology in Daycare Centers
Physical activities are certainly of great significance when it's about the health of your little ones. Interactive projector games are there to solve your problems! It can trace images on the floor for around 10 kids at a time. Even if you are a working lady and drop your kids to day care centers every day, you will find that many centers are using such interactive projectors. These projectors help kids learn new things in a better way. It's also a way to keep them busy in the absence of their parents.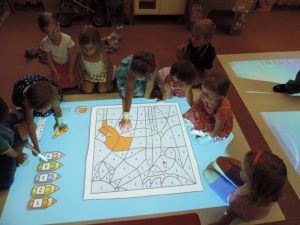 Beam – The Best Gaming Solution For Your Kid
Are you interested in knowing about the best interactive projector that can be used to flourish your businesses or for the well being of your little one? Here it is! Beam is an award winning interactive gaming solution for your child. It has the ability to transform any surface into a playing area. Beam is widely being used in educational institutes like schools or church, hospitals or clinics, food court and more. It provides a virtual playground for kids and adults to enhance their mental and physical abilities.