There are various ways, such as these tested methods used by hairdressers and do-it-yourself hair experts to pep-up tired locks and bring gloss and spring back into hair that has become limp and dry from summer's wash-and-drip-dry methods of hair care.
What you have to do first of all is take a cool, critical look at your hair problem (your mirror helps!), decide on your type of hair, then set about doing whatever's needed to restore it. Here are the clues:
FINE AND LANKY HAIR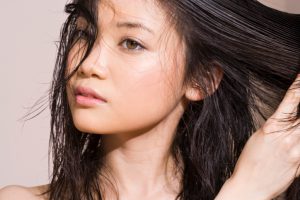 This easily gets lifeless with grease and the tendency is to wash it too often, which only over-stimulates the oil glands. Shampooing every seven to ten days is ideal. Use a liquid shampoo and plenty of beer or wave-setting lotion to give body to the hair when setting.
Brush seldom, and then only to give movement to the hair, not vigorously enough to work up a shine; if you want to put a good polish on, use a piece of silk fabric, smoothing it over your finished hairdo.
A short, springy cut is best for this type of hair. If left to grow long the effect is not sleek but stringy. To counteract both oiliness and thinness, try a fairly strong perm wave, curls right up to the roots of the hair.
DRY AND COARSE HAIR
It can easily get into poor condition. Once a month, before shampooing, oil (half castor and half olive oil) should be rubbed in thoroughly to feed the hair roots and left to soak in under a hot, moist towel. Shampoo it every ten days, using a cream shampoo; follow this with a good conditioning cream.
For home setting, use large rollers or large spring clips to avoid an over-curly effect.
Good thinning is essential. Lucky girls who have this type of hair can successfully wear bouffant or head-hugging styles-although curls will get a little untidy soon after setting. A light perm will help to control this lively type of hair, but beware of over-perming, which will kill the natural sheen and color.
THICK AND GREASY HAIR
Hair of this type can readily take washing more frequently. A shampoo every three days is recommended where oiliness is excessive, using a pine-based or medicated one. Frequent washing will not ruin your locks.
If you must use a brush, touch the ends only, well away from the scalp; massage the scalp firmly with the fingertips to stimulate the blood vessels nourishing the hair roots.
This type of hair can take most styles. Layer cutting and thinning will make it easy to set at home, and using beer will keep the set in longer. Most perms do well on this kind of hair.
However, if your hair is oily and you can't wash it, give it a dry shampoo. You can do this two ways: soak pads of cotton-wool in cologne, place them between the bristles of your hairbrush, and lightly brush the oil out of the hair; or you can shake some dry shampoo into your hair and this will remove the grease as you brush it out.
FINE AND DRY HAIR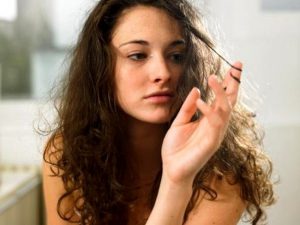 This often suffers from lack of good blood circulation and requires constant massaging of the scalp with the fingertips each night and before shampooing. A warm olive- and castor-oil treatment should be given every three weeks before washing with a cream shampoo.
If you have a pretty face and flawless skin you will get away with wearing this type of hair long and sleek, but most young girls are better off with shorter hair, well cut, and with the very lightest of perm waves set on large curlers. Keep perms down to two a year.
References:
http://www.lifetips.top/beauty/12-ways-to-have-perfect-hair/