It's that time of the year when we are all about to bid farewell to the summer and are preparing ourselves for the chilling winter weather. Tree leaves are turning a flaming red, crisp air has replaced the warm summer breeze and the temperature has started to drop slowly. We suggest going someplace where this beautiful autumn weather is particularly enjoyable.
Although London is a rather pleasant city all year around, but there is something much more alluring about it during the fall. Imagine the historic beauty of the city covered with dried leafs, Londoner's dressed up in exotic clothing ready to embrace the light breeze. Romance is bound to flow through every vein in your body. Let us give you five more reasons to visit this incredible city during fall. Take a look!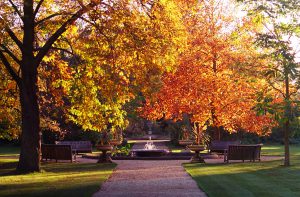 Oxford Botanic Garden in Autumn
Image Source: https://upload.wikimedia.org/wikipedia/commons/9/98/Oxford_Botanic_Garden_in_Autumn_2004.jpg
Glorious parks and enchanting landscapes
This time of the year you can witness the leaves changing colors before they fall off the tree and fill the pathways. You can find all the different shades of yellow, orange and red adorning the branches of trees and giving the parks at London an enchanting feel. Pay a visit to Hampstead in North London and you can relish in a long peaceful walk amidst the beautiful nature. You can also relax at the Hyde park or the Richmond park and enjoy some of the most breathtaking views this time of the year.
Less Crowd = Peace and Serenity
London is one of the most popular tourist destinations of the world. Therefore, you can witness popular city attractions, great dining places, pubs and galleries flooded with swarms of tourists. As such it can become extremely difficult to enjoy the rich and arresting beauty of this incredible city. As opposed to the peak summer seasons, you will find London much less crowded during fall. This will give you the opportunity to enjoy High Tea, English Style without having to battle the crowd.
Steal-worthy discounts on Airfare & Hotels
The month of November is a short window between the peak summer season and Christmas holiday. This time of the year you can easily take advantage of discounted air fares and lodging with the added bonus of easy availability. Apart from that the city is brimming with several iconic attractions, which won't cost you a dime. Only a fool won't take advantage of this win-win situation.
Happening Parties and Events
London is well known for its diverse culture, exotic cuisine and happening parties, events and concerts. Even during fall you can treat yourself with the premier of an amazing play, live performance at any random pub or a cool party at a new club opening. The city knows how to party and will definitely not disappoint you. You will have so many things to do in London that even a weeklong vacation won't suffice.
Lastly, it's truly Romantic
Although Paris holds the crown of being the most romantic city in the world, but one can find countless romantic walks even in London. From a riverside strolls along the Thames to late-night rambles through the Royal Parks, you will be left mesmerized looking at the beautiful sights of the city. You can even watch a sun setting over the most historic city of the world or just go for a candle light dinner at one of the city's finest dining. Whatever you do, it will be truly romantic.
So, when are you planning a Getaway to this beautiful city?