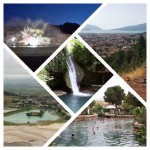 When you google Marmaris and come across all those photos of stunning nature scenery, you can't help but wonder whether they don't all come in filters; Well, believe it or not, the crystal clear TURQUOISE WATER, the PINE-FORESTED MOUNTAINS, the long BLACK SAND SEAFRONT… they're ALL REAL. When we decided to go to Marmaris, we were expecting to spend an unforgettable adventurous holiday and, to tell you the truth, we were not dissapointed. We were a group of six (3 couples) with different tastes and, let me tell you that, this "Turkish riviera" hotspot seems to have something for everyone.
The best time to visit Marmaris is during the months of June till September; bear in mind that until the end of May the water will still be cold and there's a good chance of showers. Do not forget to take a sweater and a pair of pants for it gets a bit chilly at night. 6 days are adequately sufficient to explore Marmaris; if you plan ahead, you'll get to enjoy most of the "not-to-be-missed"attractions during your stay.
MUST-DO EXCURSIONS:
Jeep Safari (10/15$): You're gonna get soaked, DRIPPING soaked!!!
Activities Included: Panoramic view stop (capture Marmaris from a perfect angle), off-road ride in water puddles (prepare yourself for a wet and dirty, bumpy ride), water-pistol fight (more water but in a merciless, revengeful style), swim break in Ozzy waterfall (you'll definitely be tempted/encouraged to jump); lunch in a countryside village (get full at your own expense); walk on Jesus Beach (the water is significantly  shallow  you can actually cross the sea to the other side on foot and it almost feels like walking on water). Tips: It is highly recommended to get a waterproof bag to keep your belongings from getting ruined; put on water compatible footwear; bring an extra towel and some clothes in case you needed to get changed.
Dalyan Cruise (10/15$): Dolphins (maybe), Turtles (maybe), MUD (sure)
Activities Included: Swim break in aquarium bay (a little refreshing dive in a natural pool), cruising past Dolphin Island (keep an eye on the water, you might spot a black dolphin), stop at Turtle Beach (unlikely to see the Caretta- Caretta turtles unless you go in August) , Dalyan Caunos (streaming through Dalyan river in small boats, passing by Lycian rock tombs); stop for Mud Baths (yes, you'll wallow in mud like a hippo), not to forget that you'll be sunbathing on a cruise boat (the one time you're allowed to call sunbathing an "activity").   Tips: Most of the time in this excursion will be spent at sea, if you have motion sickness take an antiemetic medication with you; do not forget to take off all your jewelry before you go in the mud.
Pamukkale (45/50$): The HISTORIC hot bath
Activities Included: Stop at the Onyx Rock Factory (a short demo and souvenir shopping), exploring the Roman City of Hierapolis (Museum, Theater, Nymphaeum, Temple of Appolo, Plutonium, Arch of Domitian, and St Philip's Tomb); feet bath in Travertine hot mineral basins (take off your shoes, roll your pants up  and give your feet a hot relaxing bath), swim break in Cleopatra Antique Thermal Pool (swim with antiques in a natural jacuzzi), and an open buffet at one of Pamukkale's restaurants (finally, an OPEN buffet!! ). Tips: Bear in mind that Pamukkale is 3 hrs away from Marmaris so make sure you put on comfortable clothes for there will be a good amount of sitting time;The entrance fee to Cleopatra Pool is not included in the excursion package (8/10$), do not forget to take your towel/clothes with you into the site because once you're inside you're not allowed to go out and get back in.
Parasailing (30/35$): No filter can describe this BREATHTAKING view
Activities Included:  A speed boat will take you in the sea where expert people will give you the necessary instructions, get you in a life jacket and keep an eye on you all the time; once you're up there you'll feel extremely stable you can even let go of your hands, wave to the camera, and feel the adrenaline of flying over Marmaris. Tips: This activity is perfectly safe; if you're scared of heights, do not look down, or simply close your eyes while you're going up and open them when you feel stable; you're securely buckled up you do not need to hold on very tight to your straps.
OPTIONAL ACTIVITIES:
Swimming With Dolphins: If you like dolphins, this is the perfect activity for you. You have 3 options: watching (15/20$), meeting (40/45$), and swimming with dolphins (90/95$ couple swim). The ultimate experience is swimming with Dolphins;  you'll spend about 10 minutes touching, kissing, and dancing  with a dolphin under the guidance of expert trainers.                                                                                                                                        
Waterparks: There are 2 waterparks in Marmaris; Atlantis (15/20$) , the smaller one, located on the seafront and another bigger one, Aquadream (18/22$), on a nearby hill; both are similar in terms of slides but the one on the hill offers a bigger space with a spectacular view over Marmaris.
Dancing Fountains (free): The dancing fountains show takes place every night at 9 pm in Marmaris marina, you can enjoy the documentaries projected on water with an entertaining light show.
Dinner Cruise (10$): According to most of the reviews, the dinner cruise is not recommended for reasons related to the quality of food, entertainment, etc… If you get to have it for free then go for it, otherwise it is not a fundamental activity on your to-do list whilst in marmaris.
HOTELS: You'll find a wide variety of affordable hotels in Marmaris, we stayed at Poseidon Hotel a 4- star hotel, newly renovated, very clean and well maintained, with ample amenities and a generous breakfast; other examples are Hotel Dost, Anemon Hotel… Make sure you visit Booking.com for the best deals.
RESTAURANTS/NIGHTLIFE: Almost all Marmaris restaurants offer a rich and delicious menu variety; Samdan, Andy's, and Amore are highly recommended if you're longing for steak; try an Indian spicy dish at Taj Mahal, or even some Chinese food at The Mandarine restaurant;  or just stop for a tasty shawarma at Tasty Bites; At night head to the Bar Street in marina area and enjoy the buzzing nightlife of Marmaris. Make sure you check Tripadvisor.com for the best restaurants reviews.
SHOPPING: Take some time off of your busy, fun-loaded, schedule and visit the Grand Bazaar in Marmaris marina, you'll find everything you need from souvenirs to apparel and Turkish delights.
GETTING AROUND: Marmaris is rather small, you don't really need taxis to get to your destination. Dolmus buses are very popular there, they're cheap too, you can get from your hotel to the marina for less than a dollar; or you can even walk there and explore the busy streets of this amazing place.
USEFUL TIPS: 1- Book your excursions as soon as you get to Marmaris and not before, you'll get cheaper deals from the numerous kiosks on the seafront; 2- Drinks are not included in excursions' packages, so keep some cash on you at all times; 3- You will be photographed a lot during your excursions and in some water activities you will not be able to use your camera, so make sure you work a good bargain for photos/CDs ; 4- Plan your day to include not more than one excursion in order to have some time to rest and enjoy the buzzing nightlife of Marmaris; 5- Turkish goods are very similar in all stores, what differs is your bargain skills, so feel free to make use of them to get a better price.
FINAL THOUGHTS: You'll definitely enjoy your time in Marmaris; nature is stunning and people are nice, though they will try to sell you everything, in every possible way; do not be surprised if you heard someone shouting "Ice cream yes please!!", it's just one of their creative selling techniques.