The south of Portugal is probably the most visited part of the country, and the beaches of Algarve, stretching for over 170 kilometers, are surprisingly diverse.
The busiest places with well-developed infrastructure and good conditions for swimming are situated between Lagos and Albufeira. However, these destinations also provide the most incredible panoramas of Portugal – yellow rocks and mysterious caves surrounded by the ocean.
Faro is the capital of the region, and its unique ecosystem is famous for amazingly beautiful lagoons and little islands scattered all over the coast. Calm and authentic Tavira offers continuous stripe of white sand and greatly suites for relaxing under the sun.
But in case you're searching for the wildest places of Algarve, you need to go to the neighborhood of Sagres – although swimming is not very comfortable there, but it's a real paradise for surfers and adventure seekers.
So, what place do you prefer? Check out 5 most impressive beaches of Algarve in order to make the right choice!
Praia Nova
Praia Nova is a narrow long cape crowned with Nossa Senhora da Rocha fort. The fort serves as the boundary between Praia da Senhora da Rocha and Praia Nova.
Praia Nova is very extensive, but not well-equipped and not controlled by rescuers. Therefore, it's much wilder and calmer. The narrow strip of sand stretches for 300 meters, and in its center yellow-red rocks formed several levels.
To get to the beach, you will need to go down the cobbled and steep path. Another way to access Praia Nova is a tunnel in the rock connecting the beach with Praia da Senhora da Rocha.
Address: Vila Nossa Senhora da Rocha 140, Lagoa
Coordinates: 37.096063, -8.388619
image
Praia da Marinha
Praia da Marinha is among hundred world's best beaches, and it's situated 6 kilometers south-east of Lagoa.
There are no cities or villages around it, but the beach features excellent infrastructure – there's a parking, a restaurant, toilets, rental of beach equipment, rescue point and good opportunities for diving.
Praia da Marinha is not very long, but together with the neighboring Malhada do Baraço, Praia do Pau, Buraco, and Praia do Barranquinho the sand strip stretches for almost a kilometer.
Thanks to a heavily eroded coastal line and scattered in the water islet-cliffs, Praia da Marinha is one of the most 'photogenic' places of the Algarve. Also, there are good conditions for snorkeling, swimming, and hiking.
Address: 8400 Lagoa
Coordinates: 37.089821, -8.412717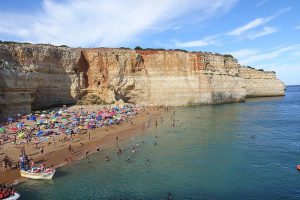 Praia de Benagil
If you compare the coastline of Carvoeiro with architecture, then Praia de Benagil is an incredible masterpiece of the Renaissance. In addition to a convenient entrance, parking, restaurant and rental facilities for recreation, the beach features the amazing surrounding landscapes.
Gorgeous caves are the major reason of popularity of Praia de Benagil. Through the huge stone arches you can see the ocean and the sunlight, which is fantastically beautiful.
Generally, Praia de Benagil is small, but very convenient for swimming, but in summer it's often crowded. Rental of kayaks and boats is available.
Address: CM1154, 8400 Lagoa
Coordinates: 37.087213, -8.425878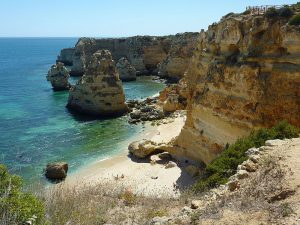 Praia de Vele Centianes
Praia de Vale Centianes is a medium-sized calm beach equipped with a rescue point, cafes, rental boats, and features rich seabed, which is especially good for the fans of diving.
The sandy beach is surrounded by steep cliffs, but access to the beach is convenient. Moreover, there's a large parking. At low tide, you can explore a small cave situated in the western part of the beach. Interesting surroundings make Praia de Valle Sentianes an ideal spot for walks.
Address: Rua do Jardim das Palmeiras, Lagoa
Coordinates: 37.091403, -8.455862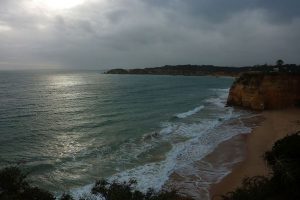 Praia da Ingrina
Praia da Ingrina is a very convenient beach, more popular among divers than surfers.  However, it offers comfortable swimming.
The beach is a 70-meters long strip of sand situated in a sheltered bay, one side of which is formed by a huge, eroded limestone platform, and the other is a high toothed rock. The vast area of underwater rocks with rich marine life provided the beach with the glory of an amazing diving spot.
The beach overlooks the plain opened to the north winds, but it's protected from the west, so in the calm weather there are ideal conditions for enjoying the sun and the sea.
The main services on the beach include cafes, toilets, rentals and the presence of rescuers. You can get to Praia da Ingrina by asphalt road, from Raposeira.
Address: Parque Natural de Sudoaste Alentejano a Costa Vicentena, Raposeira
Coordinates: 37.046674, -8.879375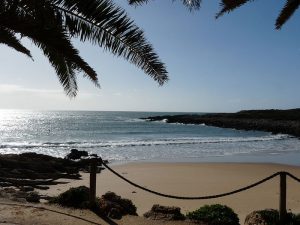 So, Algarve is an excellent spot to relax on the beach. It provides more than 300 sunny days a year, very clean water, stunning scenery and fresh breezes.
Algarve's coast is full of beautiful beaches, but in case you like any of the above-mentioned ones, you can easily reach it by using a rental car at Faro Airport.
Keep in mind that the coast of Algarve is washed by the Atlantic Ocean. Respectively, the water temperature is not always comfortable for swimming. The warmest water in July and August is up to +20…+22C degrees.