The S-300 (NATO reporting name SA-10 Grumble) is a series of initially Soviet and later Russian long range surface-to-air missile systems produced by NPO Almaz, all based on the initial S-300P version. The S-300 system was developed to defend against aircraft and cruise missiles for the Soviet Air Defence Forces. Subsequent variations were developed to intercept ballistic missiles.
The S-300 system was first deployed by the Soviet Union in 1979, designed for the air defence of large industrial and administrative facilities, military bases, and control of airspace against enemy strike aircraft.
The project-managing developer of the S-300 is Russian Almaz corporation (government owned, aka "KB-1") which is currently a part of "Almaz-Antei" Air Defence Concern. S-300 uses missiles developed by MKB "Fakel" design bureau (a separate government corporation, aka "OKB-2").
The S-300 is regarded as one of the most potent anti-aircraft missile systems currently fielded. Its radars have the ability to simultaneously track up to 100 targets while engaging up to 12. S-300 deployment time is five minutes. The S-300 missiles are sealed rounds and require no maintenance over their lifetime. An evolved version of the S-300 system is the S-400 (NATO reporting name SA-21 Growler), entering limited service in 2004.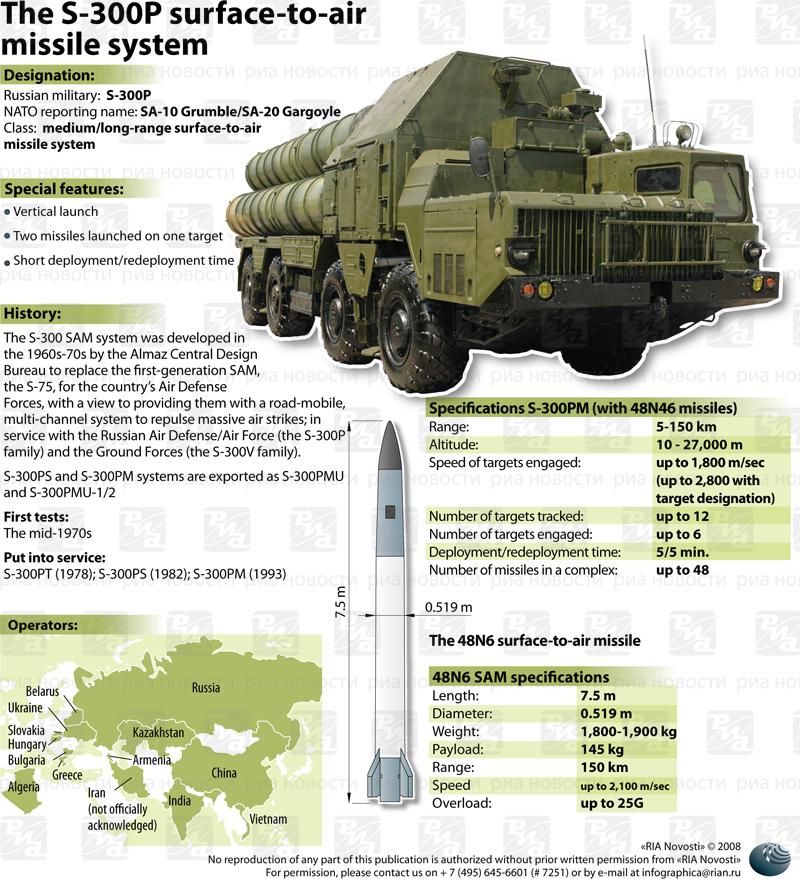 The S-400 Triumf (Russian: C-400 «Триумф»; NATO reporting name: SA-21 Growler), previously known as S-300PMU-3, is a new generation anti-aircraft weapon system developed by Russia's Almaz Central Design Bureau as an upgrade of theS-300 family. It is currently in limited service with the Russian Armed Forces.
The S-400 uses three different missiles to cover its entire performance envelope. These are the extremely long range 40N6, long range 48N6 and medium range 9M96 missile. Each one has different capabilities.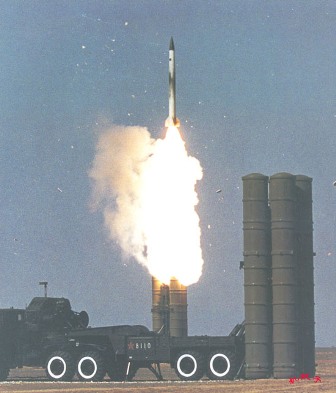 Development
The development of the S-400 system began in the late 1990s. The system was formally announced by the Russian Air Force in January 1999. On 12 February 1999, the first tests were performed at Kapustin Yar in Astrakhan which were reported successful. As a result of this, the S-400 was scheduled for deployment in the Russian army in 2001.

In 2003 it first became apparent that the system was not ready for deployment, but in August two high-ranking military officials expressed concerns that the S-400 was being tested using 'obsolete' interceptors from the S-300P and concluded that it was not ready for production.

Finally the completion of the project was announced in February 2004. In April, a ballistic missile was successfully intercepted in a test of the upgraded 48N6DM interceptor missile.

Structure
Controls 30K6E:

command and control center 55K6E base on Ural-532301

panoramic radar detection 91N6E (range 600 km) have protection against jamming. Mounted on the MZKT-7930.
Anti-aircraft missile systems 98ZH6E (6 battalions) Consisting of:

Multi-function radar 92N2E (illumination distance of 400 km), the radar can operate in the formulation of active noise

5P85TE2 launchers and / or 5P85SE2 on the trailer in conjunction with a tractor-trailer BAZ-64022 or on the MAZ-543M(up to 12 launchers.)
allowed by the decree of Russian President:48N6E, 48N6E2, 48N6E3, 48N6DM, 9M96E, 9M96E2 and ultra distance 40N6E.

Missiles
The 40N6 very long range missile is capable of destroying airborne targets at ranges up to 400 km (250 mi). Active radar homing head. (expected in 2012)

The 48N6E3/48N6DM long range missile is capable of destroying airborne targets at ranges up to 250 km (160 mi).Semi-active radar homing head.
The 9M96E2 extended range missile is capable of destroying airborne targets at ranges up to 120 km (75 mi). It has the highest hit probability against fast, manoeuvrable targets such as fighter aircraft. Active radar homing head.
The 9M96E medium range missile.
The ABM capabilities are near the maximum allowed under the (now void) Anti-Ballistic Missile Treaty.
The new anti-ballistic missiles 77N6-N and 77N6-N1 to enter service in 2014 supposedly add inert/kinetic anti-ballistic capability to the system. The same missiles will also be used by the S-500, which has a clearly stated anti-ICBM role.

Deployment
A regular S-400 battalion consists of at least eight launchers with 32 missiles and a mobile command post. On May 21, 2007 the Russian Air Force announced that S-400 would be put on combat duty around Moscow and Central Russia by July 1, 2007 The S-400 was also deployed near the town of Elektrostal.

On August 6, 2007, the first regiment equipped with S-400 entered active service in Moscow Oblast' near town ofElektrostal, according to Channel One Russia. This is the 606th Guards Anti-air Rocket Regiment, 9th PVO Division, 1st PVO Corps, of the Special Purpose Command.

On February 8, 2008, Lt. Gen. Vladimir Sviridov announced that Russia will be replacing the S-300 systems in the Northwest of Russia with the more technologically advanced S-400. Russian military experts expect that Russia plans for this system to be in place and represent a major component of their ballistic missile defense system until 2020.

In September 2006 Deputy Prime Minister Sergei Ivanov announced a new state program of armaments for 2007–2015. This program provides for the purchase of 18 missilebattalions of S-400's.

On March 17, 2009 Russia's defense minister announced that a second regiment equipped with advanced S-400 Triumf air defense missile systems has been put into combat service.

On August 26, 2009, the General Staff said S-400 systems had been deployed in the Russian Far East to counter possible North Korean missile tests and prevent fragments from falling on Russian territory.

In February 2011 a second unit of S-400 missile systems was deployed at Dubrovki, north of Moscow. The 210th Air Defence Regiment consists of two battalions, each consisting of eight launch points, each with four missiles. In February 2011, it was also announced that the missile system will be deployed in southern Kuril Islands "to protect Russia's sovereignty in the Far East".

The Baltic Fleet in Kaliningrad received S-400 SAM systems in February 2012 and these went into operational status in April 2012. One S-400 division is deployed on combat duty in the Russian far east city Nakhodka.

As of 2012, one system (in Electrostal) is operational, with three more S-400 battalions being deployed. All 56 battalions will be delivered by 2020. Russia is setting up to regiments of S-400 in Eastern Military district.

Foreign interest
On August 23, 2007 RIA Novosti reported that their sources indicated that Russia will not export the S-400 for the next few years.

During the 2009 International Defence Industry Fair in Istanbul Turkey expressed interest in buying the system.

Vice Chairman of Russia's State Duma Vladimir Zhirinovsky has urged the fast delivery of the S-400 anti-aircraft missile systems to Iran.

On August 24, 2009, RIA Novosti reported that their sources indicated that Belarus had submitted a formal request for two battalions of S-400 systems.

In September 2009, it was reported that the S-400 system is part of a two billion dollar arms deal being negotiated between Russia and Saudi Arabia. As of March 2010, this was still under negotiation. The Saudis want to buy twelve systems, each of eight launchers. The Saudis were trying to buy the more modern S-400, but the Russians reportedly only wanted to sell the older S-300.

South Korea is developing a simplified version of the S-400 called M-SAM Cheolmae-2 with the help of Almaz. The prime contractor is Samsung Thales, a joint venture betweenSamsung and Thales. The M-SAM will be composed of an X band multi-function radar vehicle built by Samsung Thales in technical cooperation with Almaz, and fire-controlvehicles and transporter erector launchers built by Doosan. LIG Nex1 will provide the missiles.

The Russian Ministry of Defence has stated that the S-400 is for the Russian Armed Forces only; it will not be exported.