Once you were free and single and you loved romping up hills and mountains. Then you got married and children arrived. Has your walking and hiking become a distant memory?
Don't let it and you should just take your kids hiking with you!
Ok so hiking with infants on mountains may not be a good idea, but you can take them on country walks and start to build up their legs and stamina and instill them with a love and enthusiasm for the great outdoors which will stay with them for all their life!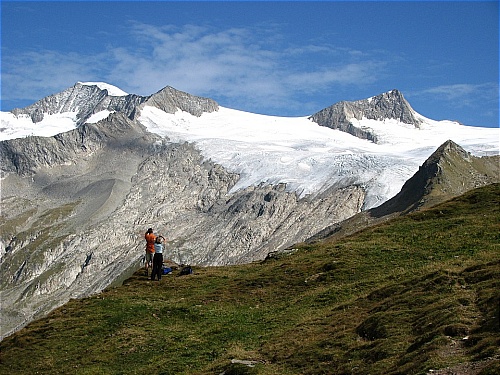 So How Should You Start?
If your children are about 2 or so years old and have been "toddling" for a while make the walk sound exciting and have a target destination such as a local animal farm, recreation park or local woods etc.
Choose a good weather day and take along or buy some treats on the way for them.
Don't try and go too far or too fast and take their pram or buggy with you in case they become tired and upset.
Initially a stroll to the local shop or shops on good pavements or level grass will help you judge their ability especially if they are very young.
In the countryside point out birds and animals and different plants.
Let them collect leaves, acorns and small stones etc.
When hiking with infants keep a close watch on them at all times and stay close to them.
Do this once or twice per week as part of your quality time with them and gradually extend the distance.
Older children say 4 and 5 years old…
Expand on the above ideas and gradually extend the length and time of each walk.
Use local footpaths and forest tracks where the terrain undulates and they can scramble over tree roots and boulders or even paddle through very small and shallow streams. Keep close to them when you are near any water.
Encourage them to carry their own small backpack with their own food and water in.
At this age they will be full of energy and you can build them up to hikes of say 3 or 4 miles or so depending on their age and ability. You will be surprised how far they walk and run but you must try and keep it interesting for them.
Sometimes they may wish to bring a friend along but remember that you are then responsible for both (or all) of them. As their stamina builds up you will be able to take them on more hilly walks and into different new areas. Thus, it is best fro you to choose good weather days.
Clothing and Footwear
At first their normal clothes will suffice as you will hopefully have chosen good weather days. However depending on the time of year and the weather conditions they will need a warm and shower proof coat, gloves and a hat. As they develop you can upgrade their walking gear to include a waterproof gore-tex jacket and overtrousers. Look at online store for secondhand gear as young children will quickly grow out of anything you buy for them.
Child footwear is more important. When they first start to walk buy good leather and lightweight hiking boots for normal wear (infants walking shoes) and avoid having to buy them "trainers" for as long as possible!
Therefore for the first couple of years of walking they can wear good fitting leather shoes and in bad conditions.
However when they are ready for longer walks over hills you should buy leather boots for them, such as Brashers. Again look at online store for secondhand boots as they will quickly grow out of them.