Traveling with your children is fun, and exhausting. There is no need to sugar coat it, as there will always be at least one point during your holiday when you're trying to stop them from throwing their toys out the cot, or from running out of your sight. However, there will always be times when your family holiday couldn't be more perfect!
Keeping your children entertained is part of the fun when it comes to family holidays, as you need to come up with a compromise when you are planning your itinerary, making time to spoil them with something – an attraction or event – that is aimed to their age group.
We have put together a short guide that includes a few things to do while you're on holiday in Dubai with your little one, because the city isn't only a paradise for the young at heart:
Go to the Park
Dubai, despite being a city filled with high rises and being known as a concrete jungle, has a number of beautiful parks that stick out like a sore thumb in their surroundings.
Providing lush, green retreats in the middle of the city, one of the most popular parks is Creekside Park. As the name suggests, it is located alongside the Dubai Creek, and offers nature lovers a spot where they can enjoy some fresh air and a nice day out with their family.
In addition to its green surroundings, the park is home to children's play areas with jungle gyms and swings, barbecue areas where you can enjoy a bite to eat, and its very own Cable Car that will give the whole family a bird's eye view of the park below them.
Find somewhere fun to dine
Dubai has endless dining options, some of which are more kid friendly than others. Try to make breakfast, lunch and dinner a time your kids look forward to by choosing restaurants that are fun and cater to their needs – whether that be an entertainment centre inside the restaurant or providing them with some games you can all play at the table.
One such example, that is still one of my favourite restaurants as an adult, is the Rainforest Café situated in the Dubai Mall.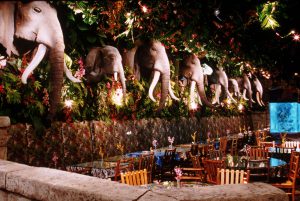 Surrounded by a lush jungle and a selection of animals – including jaguars, gorillas, crocodiles and mechanical butterflies – that are all brought to life by the use of clever animatronics and stunning special effects. What's more, everything on the menu has a fun, jungle-inspired name, making the whole experience of dining at the Rainforest Café an absolute treat!
Theme Parks for Children
Dubai is home to a number of theme parks, some of which are aimed at the smaller members of the family, but can be enjoyed together, too.
Children's city is one example, and is an educational park that aims to teach children about the solar system, culture, our bodies, the world around us, and a number of other exciting topics. While visiting Children's City, your little ones will be able to explore with other children their age and make friends while expanding their knowledge.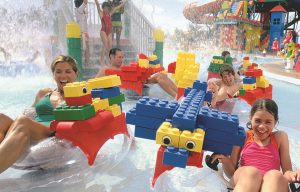 Another great example of an amazing theme park is LEGOLAND® DUBAI, a water park for kids that includes a number of age appropriate rides and slides, and a chance for them to keep cool during a hot day in Dubai.
Treat your children to an amazing holiday they will never forget by spending a day or two exploring the many child-friendly attractions and venues the city has to offer.